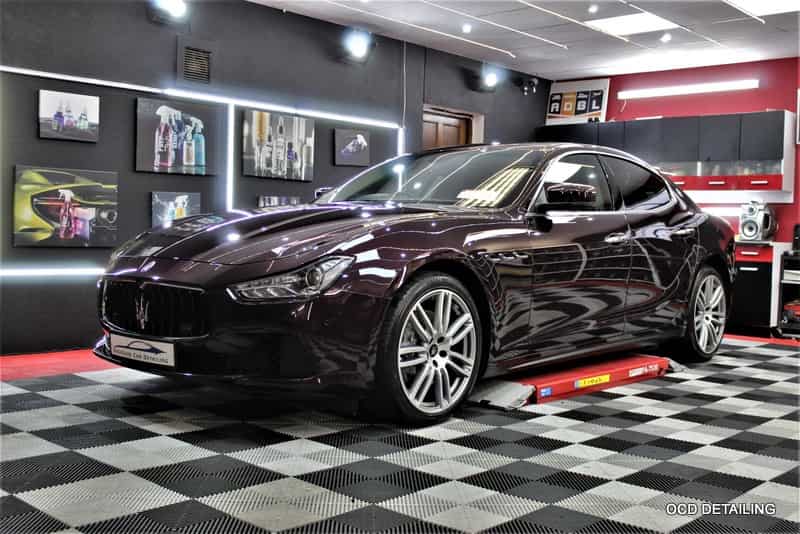 This service starts from €600, Each detail is individual due to the size and condition of the vehicle and an exact price will be given upon inspection of the vehicle and a price will be agreed upon before I start the detail on your vehicle.
Major Paint Correction Detail includes

Clean wheels with non-acid wheel cleaner

Clean door, boot shuts

Snow foam vehicle

Wash (2 Bucket method with grit guards) using premium wash mitts

Remove tar from bodywork

Apply fall-out remover

Full clay bar treatment

Snow foam wash

Dry with soft microfibre towels


Multi-Stage machine polishing process to remove heavier swirl marks & scratches, restoring gloss & depth of shine (95% reduction in paint's defects )

A full wipe down to remove any oils left from polishing and maximise coating bonding.

Ceramic Coating 

applied to provide up to 36 months of paint protection (Upgrade Ceramic Coatings available)
Outside of wheels ceramic coated

Exhaust tailpipes polished to restore appearance

Tires and trims dressed to restore appearance

​Exterior windows polished

Interior Vacuumed, mats cleaned , windows cleaned
Major Paint Correction Price list .
All prices include 13,5% VAT
Small Cars (eg. Audi A1, Ford KA, Vauxhall Corsa, Mazda MX-5, Mini, Fiat 500, Volkswagen Polo ) from €750

Medium Cars (eg. Audi A3, Audi A4, BMW 3 Series, Porsche Cayman, Ford Focus, Volkswagen Golf) from 800
Large Cars (eg. Audi A6, Audi Q5, BMW 5 Series, Jaguar XF, Porsche Ford Kuga, Range Rover) from €8500
Extra Large (eg. Audi Q7, BMW X5 , Porsche Cayenne, Volvo XC-90, Range Rover Vogue) from €900
Upgrade Paint Protection Options.
Premium Ceramic Coating  (3 year paint protection) Plus €100 (Aqua, Gtechniq, Titan, FX Protect, )

​ Premium Ceramic Coating  (5 year paint protection) Plus €200 (Gyeon, Titan, FX Protect)

High-End Paint Protection  ( Gtechniq Crystal Cerum Ultra, Opti-coat PRO)    POA
Optional Extras
Arches Detail &Wheel Ceramic Coating – €100 (Inside & Face)
Interior Detail from – €150