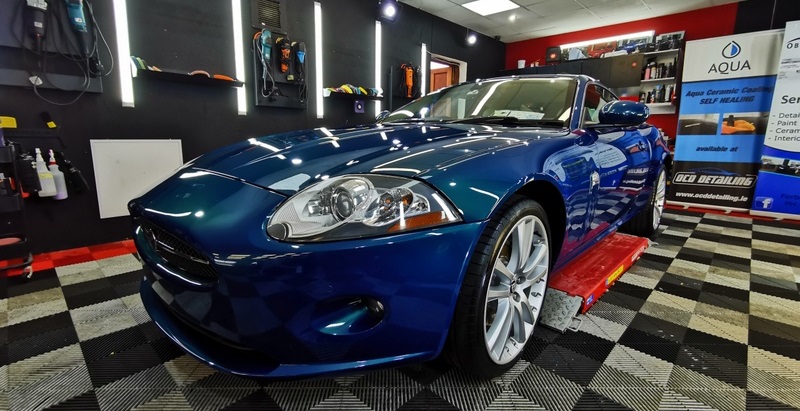 New Car Protection including 1-year ceramic coating

Full Paint Correction Price list.
Small Cars (eg. Audi A1, Ford KA, Vauxhall Corsa, Mazda MX-5, Mini, Fiat 500, Volkswagen Polo ) from €250

Medium Cars (eg. Audi A3, Audi A4, BMW 3 Series, Porsche Cayman, Ford Focus, Volkswagen Golf) from €300
Large Cars (eg. Audi A6, Audi Q5, BMW 5 Series, Jaguar XF, Porsche Ford Kuga, Range Rover) from €300
Extra Large (eg. Audi Q7, BMW X5 , Porsche Cayenne, Volvo XC-90, Range Rover Vogue) from €350
Premium Ceramic Coating  (2-year paint protection) Plus €50 (Aqua, Gtechniq, Titan, FX Protect, )

​ Premium Ceramic Coating  (5-year paint protection) Plus €150 (Gyeon, Titan, FX Protect)

High-End Paint Protection  ( Gtechniq Crystal Serum Ultra, Opti-coat PRO)    From €1000

ULTIMATE PROTECTION
NEW CAR PROTECTION PACKAGES
Experience the most advanced automotive ceramic coatings developed and tested to protect your new car against harsh elements and the ever-changing weather.
NEW CAR CERAMIC PROTECTION DETAIL
It is a common misconception that a brand new vehicle is perfect. The dealership's usual practice is to do a "make ready" prep before delivering to the customer. Dealerships will always use the fastest and most cost-effective way to prep the car, which inevitably creates these imperfections. In most cases, new cars need to be machine polished to remove paint imperfections such as machine buffer trails and sanding marks left behind from the production line to bring the gloss and clarity up to its full potential.
For this reason alone the "New Car Protection Detail" has been introduced which is far superior to any dealership protection package being offered such as Autoglym Lifeshine, Diamondbrite, Gard X and SupaGuard. Our service will provide the perfect foundations, and the car will look better than brand new and be well protected against the elements with an ultra-durable ceramic coating.
Wheel arches & wheels cleaned
Multi-stage wash using 2 bucket method
Clay bar & Fallout Remover used to remove bonded contaminants
1-stage machine polish
Paintwork wiped down with panel wipe
Exterior paintwork protected with AQUA 9H Ceramic Coating offering up to two years protection (upgrades available)
Wheel faces protected with spray sealant (full wheel ceramic protection upgrade available)
Interior wiped down and vacuumed (deep clean & condition upgrade available)
Interior & exterior glass cleaned
Tires cleaned and dressed
Exterior plastics dressed
Stainless steel/chrome polished & sealed