ADBL, CLAY BARS, CLAY LUBRICANTS, CLAY MITS, DECONTAMINATION, EXTERIOR
ADBL Clay Mitt

Mitt with a polymer layer replacing a traditional clay bar. Easily removes tar, resin, asphalt, bug remains and other persistent residues. ADBL CLAY MITT advantage compared to traditional clay is it is trouble-free and time-saving use. ADBL CLAY MITT is much more efficient than traditional clay.

ADBL Clay Mitt -Alternative To Clay Bar
Clay bar mitt from ADBL is an excellent solution for effective and efficient decontamination. One side of the mitt is made of a polymer layer. The polymer works similar to a classic clay bar. It easily removes any stubborn contaminants in the very same way as a clay bar.
Moreover, the advantage of clay bar mitt is that it covers a way more significant area. What speeds up the work significantly. The second side of the mitt is just like a standard wash mitt. The mitt is reusable. Its durability is between 25-40 cars.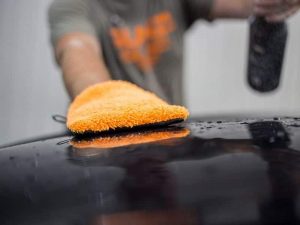 .How to use ADBL Clay Mitt

Firstly, Wash the car thoroughly with two bucket methods; rinse but do not dry.
To soften the Clay Bar Mitt put it into warm water
Apply ADBL CLAY GLIDE in the amount ensuring satisfying and comfortable performance.
Lubricate ADBL CLAY BAR MITT over paintwork and glass without excessive pressure.
Rinse ADBL CLAY MITT regularly with water to avoid unintended scratches.
Overall, work panel by panel until paintwork is smooth.
Rewash and dry the car.
Rinse ADBL CLAY MITT thoroughly with water. Dry it and store it in original packaging.
Additional guidelines:
Overall, if the vehicle undergoes complex decontamination treatment for the first time, use Vasco Prewash and ADBL VAMPIRE LIQUID before ADBL CLAY BAR MITT.
However, never use ADBL CLAY MITT in combination with solvent-based products (e.g. tar removing products), as they will damage it.
Do not expose  ADBL CLAY MITT to a temperature above 40 °C.
Size: 18 cm x 15 cm
What is decontamination of the paintwork?
So-called decontamination of the paint is an important stage before machine polishing. It involves thorough washing, chemical and manual cleaning. Overall, chemical cleaning removes loose dirt, tar and iron fallout. But in most cases, manual cleaning is also required. For this purpose, we use clay bars or alternatives. We use a clay bar mitt in the last decontamination stage, just like a standard clay bar.
Check out this video to see the entire process of decontamination. Click here.