ACCESSORIES, ADBL, BRUSHES, BRUSHES, DRYING TOWEL, DRYING TOWELS, EXTERIOR, GIFTS, IRON REMOVERS, KITS, NEUTRAL PH SHAMPOO, PAINT PROTECTION, SPRAY WAX, WASH MITT, WASHING & DRYING, WHEELS
ADBL Exterior Sample Set


ADBL EXTERIOR SAMPLE SET INCLUDING 6 EXTERIOR CLEANING AND CARE PRODUCTS
Set of products for exterior cleaning and care.
Set contains:
ADBL VAMPIRE LIQUID 0,2L
ADBL SNOWBALL 0,2L
ADBL SYNTHETIC SPRAY WAX 0,2L
ADBL ROUND DETAIL BRUSH #12
ADBL CAREMITT
ADBL PUFFY TOWEL

ADBL EXTERIOR SAMPLE SET INCLUDING 6 CAR CLEANING PRODUCTS
Exterior Sample Set from ADBL. It is an excellent set for anyone who has not tried ADBL exterior products yet. In the set, you will get samples of some fantastic products from the ADBL range. One of them is ADBL Vampire Liquid, our best selling iron fallout remover. Synthetic Spray Wax – easy application and great, effortless results. ADBL Snowball – PH neutral shampoo for everyday use. The exterior set also includes an ADBL wash mitt, detailing brush and ADBL Puffy Towel.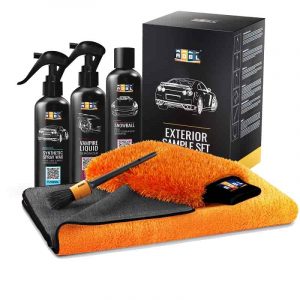 Discover the excellent quality of ADBL detailing products and accessories. ADBL is a brand established in 2014. However, since then, the brand has been continuously growing. It offers a wide range of excellent products with some unique features. Overall, this exterior sample set will let you see for yourself what the ADBL brand provides. Fantastic quality products at a very reasonable price.  Many detailing car lovers, enthusiasts and professionals use ADBL products worldwide.
Set of products for exterior cleaning and care.
What does the ADBL Exterior Sample Set contain?
 VAMPIRE LIQUID 0,2L
 SNOWBALL 0,2L
 SYNTHETIC SPRAY WAX 0,2L
 ROUND DETAIL BRUSH #12
 CAREMITT
PUFFY TOWEL
Check out also ADBL Interior Sample Set
Categories: ACCESSORIES, ADBL, BRUSHES, BRUSHES, DRYING TOWEL, DRYING TOWELS, EXTERIOR, GIFTS, IRON REMOVERS, KITS, NEUTRAL PH SHAMPOO, PAINT PROTECTION, SPRAY WAX, WASH MITT, WASHING & DRYING, WHEELS