ADBL, INTERIOR, INTERIOR CLEANERS, INTERIOR QUICK DETAILERS, INTERIOR TRIM DRESSING, SATIN FINISH
ADBL Interior Wow


Dressing, designed to protect all plastics in your vehicle, is characterized by a fresh banana scent. It gives a deep satin finish, nourishes plastics such as vinyl, rubber, or plastic. It prevents the ageing of plastics under the influence of sunlight thanks to the high content of very strong UV filters. After application, the created protective layer prevents dirt from sticking, and the specialist additives contained in the product have an antistatic effect.

ADBL INTERIOR TRIM DRESSING
ADBL Interior wow trim dressing is an excellent product for protecting and enhancing the look of vinyl and plastics inside the car.
The product offers strong protection against UV and the ageing of plastics. Moreover, it gives a new satin finish and nourishes interior surfaces. Interior Wow creates an antistatic barrier, which helps to keep the interior clean for longer. This product does not leave a streak in contact with water. The product is also very efficient. A small amount of it covers a pretty large size area. It can be used on plastics, vinyl and rubbers. Overall, ADBL Interior Wow is the perfect touch for finishing interior details.
Unlike many interior trim dressings, ADBL interior Wow does not leave a greasy finish. It does not leave a sticky residue. Overall, It is the perfect product for everyone who loves the natural new look of the interior of a car. The banana scent of the product makes the job more pleasant.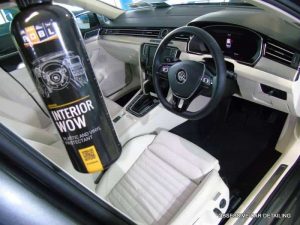 How to use ADBL Interior Wow?
If you want to achieve the best results, you should thoroughly clean the surface first. Use an all-purpose cleaner or a ready-to-use interior cleaner. Moreover, make sure the surface is dry before the application of the dressing. Apply a small amount of the interior trims dressing on a microfibre applicator. Then spread it evenly on the surface. After a few minutes, wipe off any residue of the dressing with a dry microfibre cloth.
An interior trim dressing is the last touch of interior detail. Due to that, it makes sense to use the right one. After hours spent cleaning the interior, it is worth using a product that will be the icing on the cake.
ADBL Interior wow trim dressing is definately one to consider. A fresh like-new finish will add the luxury feel inside a car. And it will make driving more pleasant.