ADBL, EXTERIOR, PAINT PROTECTION, QUICK DETAILER, SPRAY WAX
ADBL Synthetic Spray Wax

ADBL Synthetic Spray Wax
Breathe new life into your car with ADBL Synthetic Spray Wax – a perfect combo of advanced synthetic polymers – that delivers:
Ultra-deep, rich, and lasting shine
Buttery-smooth finish
Holistic protection from dust and fingerprints
Order now!

ADBL Synthetic Spray Wax: The Best Car Wax
Your search for the best spray wax for your car ends right here, right now ADBL Synthetic Spray Wax .
ADBL Synthetic Spray Wax, a proven revolutionary spray car wax, is redefining car detailing as it:
Offers a long-lasting showroom shine, silky-smooth finish, and all-round, durable protection
Lets moisture bead and roll off easily, leaving a dust and finger-print free surface due to its unique hydrophobic and anti-static formulation
Delivers durable desired effects that last up to 2-3 months and 1000-2000 Km
Allows for effortless application anywhere, anytime
Detailing your car has never been this easy and effective. So, what are you waiting for?
Give your car the shine it deserves while saving your time and money.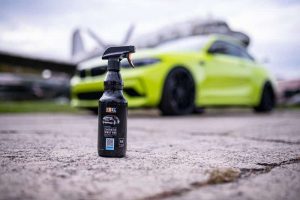 Why ADBL Spray Wax stands out from the rest?
An effortless application distinguishes wax ADBL Synthetic Spray Wax. The product is ready to use. Before starting the procedure, shake the bottle thoroughly. Then it is enough to evenly spray the liquid on the washed car body (dry or wet).  Thanks to its unique formula, it does not run off or dry out too quickly. After application, carefully wipe the surface of the car body with a clean, dry microfiber cloth. If you use too much product, use a new, dry microfibre cloth to wipe off the residue of the spray wax. Aft a few minutes, the vehicle is fully ready. The effects are visible immediately!
ADBL Synthetic Spray Wax is a unique auto detailing product. It will effectively protect the paintwork of your car. This product is a mixture of synthetic polymers, giving effects similar to the application of wax. Single applications bring out a great depth of colour and give amazing shine. The surface becomes extremely smooth, hydrophobic, and antistatic.
Thanks to this, the maintenance is straightforward, and the car looks great for a long time. The use of the product also protects the paintwork against the formation of fingerprints or water spots. One application guarantees effects lasting from 2-3 months depending on the weather conditions and the method of washing the car.
How To Use ADBL Synthetic Spray Wax?
The ADBL Synthetic Spray Wax is so fast and super-easy to use that it almost feels like cheating.
Here's all you need to do:
Spray an optimal amount of wax onto the clean exterior of your car
Wipe off the car wax with a dry, microfiber cloth
And just like that – with only a single application – you'll get an incredible depth of colour, shine, and protection. Isn't that just what you want?
Note: The synthetic car spray wax can be used either on a wet or dry surface – in dark or direct sunlight. It works perfectly on its own as well as in tandem with other waxes, sealants, or protective coatings. Do shake it well before use and store it in a cool, dry place.