CleanTech Tech Cleaner – acidic car shampoo
Tech Cleaner is a concentrated acidic car shampoo. Incredibly effectively removes dirt from the car's surface, leaving no stains. Thanks to its acidic PH, the product is perfect for washing cars protected with ceramic or quartz coatings. Therefore, it allows for quick and effective washing of the vehicle, and in addition, the shampoo unclogs the coatings, restoring their natural hydrophobicity. At a low concentration of the product, it is also safe for waxes and sealants. The shampoo is highly effective and efficient.
Product features: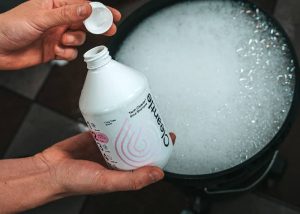 How to use acidic car shampoo?
For general maintenance, you can use it the same way as any car shampoo. This product provides great cleaning power, it decreases the surface. Moreover, the product is easy to rinse off and has a lot of lubrication for your wash mitt. For regular maintenance dilute the shampoo 20-40ml per 10L of water. At this dilution, the shampoo is safe for sealants and waxes. For unclogging coatings use 50-100 ml of the shampoo per 10l of water.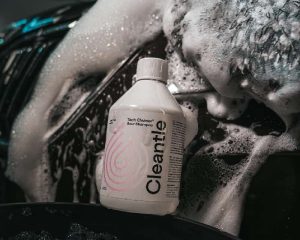 If your coating is heavily clogged, the most effective way of unclogging it is using a dilution of 1:4. Apply the solution on the paint and provide a significant amount of agitation with your wash mitt. Leave the acidic shampoo on the surface for at least 10 minutes. Then rinse off the shampoo very well. A quick rinse is usually not effective. Please bear in mind that the shampoo doesn't provide any hydrophobic properties. Therefore this product will only restore the hydrophobic properties of the coating if they are still there.
Why should you use acidic-based shampoo for maintenance?
The reason is straightforward. Tap water consists of a lot of limescale unless it is filtered. Even though you may dry the car after a wash, there may still be a residue of limescale left over on the vehicle. You may not see it with the naked eye, but it is there. Cars with ceramic coating show it the most. The freshly coated car has excellent hydrophobic properties. But over time the hydrophobic die down, especially on the lower parts of the vehicle. This is because of limescale as well as dirt. When this happens ph neutral shampoo may remove the dirt but it will not revive the coating. That's why producers of car care products went a step forward and found the solution in acidic shampoos. This type of shampoo works like a descaler.