CLEANTLE, IRON & TAR REMOVERS, IRON REMOVERS, WASHING & DRYING, WHEELS
CLEANTLE Deiron Man Fallout Remover

Deiron Man – Iron Fallout Remover is a product that cleans rims and paints from metallic particles deposited on them as well as volatile rust and dust from brake pads.

Cleantle Deiron Man  – iron remover
Cleantle Deiron Man is a very effective iron fallout remover. Every detailer or even car enthusiast needs this type of product. Cleantle Deiron Man removes brake dust and metallic particles from your wheels and paintwork. It is PH neutral product, so it is entirely safe for all, even delicate surfaces. This product clings well to the surface and doesn't dry rapidly. That's why it allows a longer working time even when you use it outdoors. It rinses off easily. Cleantle iron remover is the same as other this type of products and turns purple when reacting with metal-based impurities. Cleantle Deiron Man does not contain any components that may cause corrosion.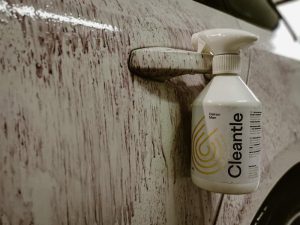 How to use iron remover?
Wash the car first and remove the tar. You can apply this product on dry but also on wet paint. Off course, on dry paint, it will work more effectively, but on wet paint, it will also do the job. However, when you use it on wet paint, it will take a little bit longer. Spray the iron remover on your paint and wheels. Leave it for a minimum of 5 -10 minutes to dwell. However, if the car is heavily contaminated, leave it as long as possible to remove the contaminants entirely. To speed up the process, you can agitate the iron remover with a wash mitt. If the product is drying off, spray a tiny bit more. Once you are happy with the result and there is no more reaction, rinse off the car well.
How often should I use fallout remover on the paint?
There is no straight answer to this question. Of course, you should use iron remover every time you prep the car before the machine polishing. When it comes to maintenance, it all depends on the use of the vehicle. If your car is doing a lot of mileage, I recommend using iron remover every 2-3 months. However, if you do very little mileage, once every 6-12 months would be enough. Use this product and see what reaction appears on the paint; if the reaction is heavy after a couple of weeks, then you know you should use it more often.
If the reaction is not significant, then use it every few months.
Find us on Facebook, Instagram, YouTube and TikTok