Christmas Hampers, CLEANTLE, GIFTS, SPECIAL OFFERS
Cleantle Gift Box
A Gift Box is the perfect gift idea for every car enthusiast. Provide a special surprise for your loved one this Christmas or any other occasion. Any enthusiast of a clean car will be delighted with such a gift. This Box contains a wide selection of great products.
Availability:
Out of stock
39.99€
Out of stock
Cleantle Gift Box
Cleantle Gift box is the perfect gift idea for every detailer, detailing enthusiast or any car owner who takes pride in their car. Cleantle is a brand that creates quality car care products at very reasonable prices, so a gift like that will be perfect even for the most demanding person. Check out the variety of our gift boxes, if you would like to get a customised one, just contact us at 0870975758 or email at hello@ocddetailing.ie . You can order your gift box with shipping or you can collect it from our shop in Ferbane Co.Offaly ( R42YR27)
This gift box contains a selection of car care products from :
OCD Detailing Air Freshener
Deiron Man 5000ml -iron remover
Interior Dressing 500ml
Interior Cleaner 500ml
Glass Cleaner 500ml
3 microfiber cloths
2 random samples of Cleantle products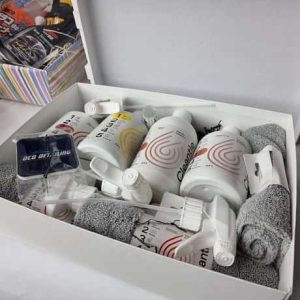 Maybe you would prefer a hamper?
Christmas hampers have become our little tradition. For the last few years, before Christmas, we have offered handmade hampers. They are trendy due to the excellent ratio of quality to the price. If you need an ideal gift for your loved one, look no forward, Cleantlegift box is the perfect one. Check out our other hampers. Moreover, if you would like a customised hamper, feel free to contact us on 0872619541 or via facebook. We can create a hamper that will suit your needs and budget.