CLEANTLE, EXTERIOR, GLASS, GLASS CLEANERS, GLASS CLEANERS
CLEANTLE Glass Cleaner

Cleantle Glass Cleaner is a product made entirely of ingredients of natural origin. It effectively cleans our car's windows without any streaks or stains on them.

Cleantle Car Glass Cleaner
Cleantle Glass cleaner is the perfect solution for cleaning windows in your car. What benefits will you get from this product? First of all, this product provides excellent cleaning properties. This is an essential feature of a good glass cleaner. This glass cleaner contains only natural components. It is ammonia and methanol free. It also doesn't consist of any other harmful components. The lovely green tea scent will make your work much more pleasant. Cleantle car glass cleaner is very efficient. All you need is a tiny bit of product at the time. It is straightforward to use. Thanks to it, you will efortllesly clean your glass and achieve streak free finish.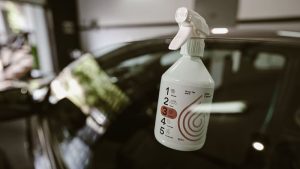 How to clean glass in your car?
1. Use two clothes; one lint-free microfiber cloth and a dedicated glass cloth.
2. Spray a small amount of the product on your lint-free microfiber cloth
3. Rub the cloth on the window to remove the dirt.
4. If your window is very dirty, keep using the microfibre cloth and the car glass cleaner until the window is relatively clean.
5. To finish it off and achieve a streak-free finish, use a dedicated glass cloth.
How to clean windows inside the car after smoking?
In this case, the task is way harder than general glass cleaning. You can do it in a couple of ways. For example, use just a good car glass cleaner and multiple clothes. Spray the product on a lint-free microfibre cloth and rub the window. Change the side each time and repeat the process a few times until there is no sign of dirt on your window and cloth. Alternatively, to achieve a quicker result, initially use an all-purpose cleaner to degrease the surface well. And then proceed with your glass cleaner.
Do you want some more detailing tips and tricks? Check out my Youtube and TikTok
| | |
| --- | --- |
| Brand | CLEANTLE |
| SIZE | 500ml, 1L, 5L, 500ml & glass cloth, 1L & glass cloth, 5l & glass cloth & spray bottle |