CLEANTLE, INTERIOR, INTERIOR CLEANERS, READY TO USE INTERIOR CLEANERS
CLEANTLE Interior Cleaner

Cleantle Car Interior Cleaner is a highly concentrated product with equally high cleaning power. It is designed to clean the internal elements of our vehicle. The agent is safe for surfaces such as rubber, fabric upholstery, LCD screens, artificial leather, and plastic.

Cleantle Car Interior Cleaner
Cleantle Interior Cleaner is a ready-to-use product for cleaning the interior of a car. When we got it first, we weren't expecting too much from this product. That's because most ready-to-use interior cleaners are only effective for light dirt. However, we were amazed at the cleaning power that this product provides. The PH of this product is around 8. So this car interior cleaner's PH is slightly above ph neutral. The product provides effective and efficient cleaning of light, moderate and even heavier dirt. But what is also very important, this cleaner is very safe on all interior surfaces of your car. You can safely use it to clean interior plastics, rubber, fabric, and glossy finishes. Because of that, Cleantle Interior Cleaner is the perfect solution for regular maintenance and general cleaning.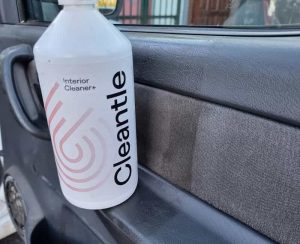 We highly recommend it to all enthusiasts but also professionals. We use it regularly for newer and cleaner cars. Of course, this product may not be effective for extremally heavy soiling, so it doesn't replace all-purpose cleaners. You can dilute Cleantle Car Interior Cleaner with a ratio of 1 to 1. However, please bare in mind that this is a ready-to-use product, so diluting will weaken it. In this case, the solution will be only effective for very light dirt. The product doesn't contain sodium hydroxide or any other harmful chemicals. It has antibacterial and antistatic properties. A lovely orange scent makes your work more pleasant.
Is this car interior cleaner better than APC?
Overall it is a great product for cleaning interior surfaces. It provides excellent cleaning power for a ready-to-use product. But in professional use, it doesn't replace an all-purpose cleaner. For very dirty surfaces, APC is more effective as you can easily adjust the strength of a solution by correct dilution. That's why it is always worth having a concentrated all-purpose cleaner.
How to use this Car Interior Cleaner?
Spray the product on your detail brush or interior mitt. Apply it on the surface and agitate it. Leave the product to dwell on the surface for a few minutes. This will allow the product to penetrate heavier dirt. In the case of more soiled surfaces, agitate it again. Use a damp microfibre cloth to remove the dirt and residue of the cleaner. Then use a dry microfibre cloth to dry off the surface. Never use this car interior cleaner in the sunlight or on hot surfaces. Do not let it dry on the surface. However, if this happens, use the product again to reactivate the dried-off residue. It will not damage the surface when it dries off.
You may also like…
EXTERIOR, ACCESSORIES, BRUSHES, WASHING & DRYING, BRUSHES, WHEEL BRUSHES, INTERIOR, ACCESSORIES, BRUSHES, BRANDS, WORK STUFF

WORK STUFF Detailing Brush Classic Premium Quality

EXTERIOR, ACCESSORIES, BRUSHES, WASHING & DRYING, BRUSHES, WHEEL BRUSHES, INTERIOR, ACCESSORIES, BRUSHES, BRANDS, WORK STUFF

WORK STUFF Detailing Brush Albino Orange Premium Quality