BRANDS, COLOURLOCK, DETAILING COURSES, LEATHER, LEATHER RESTORATION TRAINING, OCD Detailing, PROFESSIONAL LEATHER RESTORATION
Leather Restoration Course
​
​The use of leather in the automotive & furniture industries has grown consistently over the last two decades. A third of all furniture suites sold in Europe are made of leather. A considerable percentage of cars have leather seats. Most customers expect to have leather seats in their vehicles today. While leather is a durable material, scratches, stains, scuffs and damages are all too common. The market for leather repair, specialist stain removal, and cleaning is vast, and there is a significant lack of knowledgeable and skilled professionals in the trade.
Availability:
Out of stock
50.00€ – 350.00€
Leather restoration training

In the last two decades, more cars have come with leather interiors, so there is a lot of demand for leather restoration services. However, this field is still a niche. We are the first and only company in Ireland that provides leather restoration training. So if you want to learn this skill, we offer advanced leather restoration course. You can also book us for a one-on-one course.
The full price of the group course is 150 euro. The full price of one on one course is 350 euro.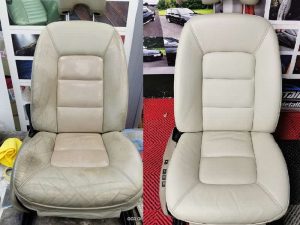 Who is this training for?
Detailer / Valeter  – This course is ideal for anyone who provides car care services. Worn leather is a prevalent issue in the majority of cars. The course will teach you all the essential leather care and restoration aspects. Thanks to this skill, you can offer extra service to your existing customer base and stay ahead of the competition. You will gain new customers who look for this service.
Car Dealer – If you sell cars, you know how important it is to have an interior look good. We also know this; we cooperate with one of the local car dealers and regularly provide them with leather restoration services. We can train your designated staff.
For anyone looking for a new business idea – 

A leather restoration starter kit is not too expensive and, with exemplary commitment, can pay for itself with just a few services. No previous experience is necessary.

Any car enthusiast. If cars are your hobbyist, leather is likely your issue at some stage. We can teach you how to restore the steering wheel, fix a bolster, etc.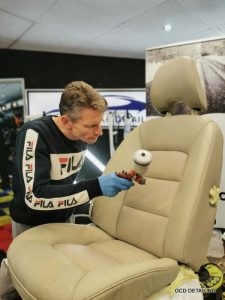 ---
What will you learn in the course?

Professional leather restoration course. (1-day)
This one-day course will teach you all the essential aspects of leather care and restoration:
Understanding the surface – leather production and types of leather
Understanding our product range and areas of application
Safe cleaning & protecting leather – hands-on session
Preparing leather for repair & masking
Re-colouring bolsters – Sponge & spray application
Restoration of a car seat – hands-on session
Colour matching – hands-on session.
Various advanced repairs of the leather – hands-on session.
Leather structure repair – hands-on session.
Pricing structure – how to price the jobs
The price for this course is 150 euros per person. The course starts at 9:15 am and until 4:00 pm
Location: OCD Detailing , Ferbane, Co. Offaly R42YR27 tel. 0872619541
The course is limited to a maximum of 6 people
To book your slot, we require a 50 euro deposit paid in advance and the remaining balance on the day of the course.
Payment (Please note that discount codes do not apply to this course)
---
One on one course
If you require an individual leather restoration course, we can provide it.
The price for one on one course is 350 euros
In the case of individual leather restoration courses, we also accept small groups of 2-3 people.
The price for two people is 200 euros per day / per person
The price for more than two people is 150 euros per day / per person
PLEASE NOTE – Before you book a one-on-one course, please get in touch with us on 0872619541 to arrange a suitable date.
---
Our course involves theory and heavy hands-on practice. Make sure you walk away feeling confident in your ability to provide leather repair services. You won't be an expert after a one day course. But we will provide all the tools, resources and support networks for you to become an expert. Typically, attendees, on average, require four weeks of practice after the training session.
Check out our youtube channel to see various repairs we have performed in the leather restoration field.
| | |
| --- | --- |
| Course | Professional leather restoration course, One on One Course |
| Date | 13 July 2023, To arrange the date please call on 0872619541 |
| Payment | Deposit, In full, One on one course |