BRANDS, GEIST, INTERIOR, LEATHER CARE
Geist Dye & Friction Blocker for Leather & Vinyl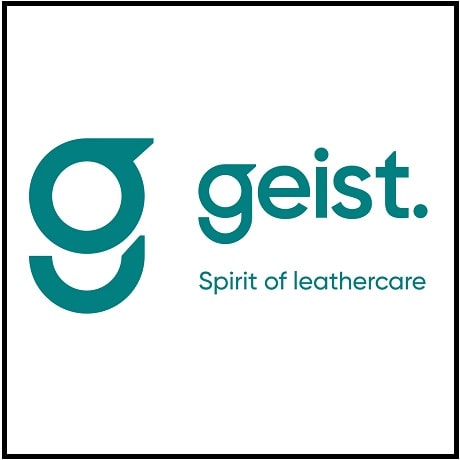 Thanks to Geist Dye&Friction Blocker, dye transfer doesn't penetrate the structure of the leather but stays on the top; also, it is much easier to clean.

Geist Dye Transfer & Friction Blocker
Geist dye transfer and friction blocker. Why is this product necessary for everyone who has leather in their car? Since 2004 regulations about using solvent paints changed, and all leather finishes have been water-based. Because of that, modern leather is not as resistant as old types of leather. Since then, dye transfer has also become an issue that has rarely happened before. Most people use conditioners when it comes to leather; of course, conditioners are suitable for restoring the natural features of genuine leather. But conditioners don't protect the leather from dye transfer. That's why using the right product for the task is essential. The Geist dye & friction blocker is a leather protector; it creates an invisible barrier on the leather. Thanks to this, dye transfer doesn't penetrate the structure of the leather but stays on the top; thanks to that, it is much easier to clean. Another role of this product is slowing down the wearing of the leather.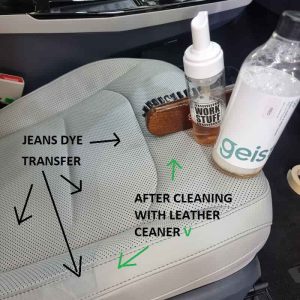 How to use the leather protector?
The use of this dye blocker is straightforward. First of all, you need to clean your leather thoroughly. Use dedicated leather cleaner. I recommend Geist Rapid Leather & Vinyl Cleaner PRO for very dirty leather. However, if your leather is not very dirty or you clean it regularly, then use Geist Rapid Leather & Vinyl Cleaner ( plant-based product). In each case, use products from a foamer and a leather brush for agitation; wipe off any excess leather cleaner and dirt with a cloth after cleaning. Wait at least two hours from cleaning until the leather also dries naturally.
Now you are ready to apply the Geist Dye & Friction Blocker. Use a sponge or microfibre applicator or even a microfibre cloth. Apply a small amount of the product on your applicator. Then apply the product on the entire surface of your leather. Once you apply it, please leave it to dry naturally. Job done. We recommend applying this product every three months on the driver's seat and every six months on the rest. Of course, this rule applies to a car used daily.
You can use the dye blocker on the following surfaces:
– natural leather with a smooth finish
– artificial leather
NOTE: This product is not suitable for aniline leather, suede etc.
Find us on Facebook, Instagram, Youtube and TikTok
You may also like…
EXTERIOR, ACCESSORIES, APPLICATORS, INTERIOR, ACCESSORIES, APPLICATORS, BRANDS, WORK STUFF

WORK STUFF Breeze Interior Mitt

INTERIOR, GLASS CLEANERS, INTERIOR TRIM DRESSING, MATT FINISH, ACCESSORIES, APPLICATORS, BRUSHES, MICROFIBRE CLOTHS, INTERIOR CLEANERS, BRANDS, GOOD STUFF, WORK STUFF, GIFTS, KITS

GOOD STUFF Interior Kit

EXTERIOR, ACCESSORIES, BRUSHES, WASHING & DRYING, BRUSHES, WHEEL BRUSHES, INTERIOR, ACCESSORIES, BRUSHES, BRANDS, WORK STUFF

WORK STUFF Detailing Brush Classic 3-pack