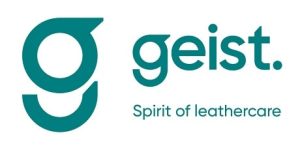 Geist Leather restoration kit for black steering wheel
Geist Leather Steering Wheel Restoration Kit is the best repair kit to restore your old, worn or faded leather steering wheel. The leather repair kit is ideal for freshening and repairing minor scratches and scuffs.
Leather steering wheel repair
In any car interior, steering wheels are one of the most common wear areas. The extended contact of your hands with the steering wheel leads to dirt and grease buildup. Hand sweat and skin oils are particularly aggressive to leather. This is because leather has open pores into which hand perspiration, skin grease and moisture gradually soak in. As a result, leather becomes brittle, fades in colour and tears. In addition, exposure to sunlight for long periods causes colour fading, and scratches are inevitable when getting in and out of the car. So check out this great solution this leather restoration kit for black steering wheel offers.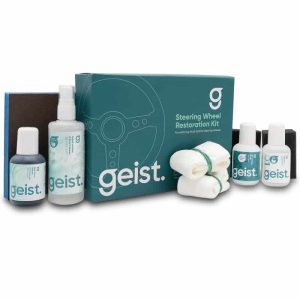 How to restore worn leather steering wheel?
1. Clean the surface with Geist Rapid Leather Cleaner. Spray cleaner onto the sponge, squeeze to create foam and clean the steering wheel. Remove dirt with a damp cloth. Then wipe with a dry cloth.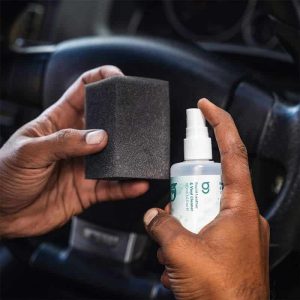 2.  Sand the surface with the sanding pad from the leather restoration kit.
3. Pour the degreaser onto a dry cloth. Rub firmly over the surface to remove the remaining grease.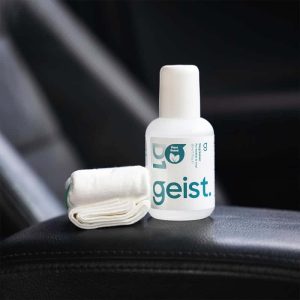 4. Wipe evenly using a sponge and dab into damaged areas. Build multiple thin layers. Dry each layer with a hairdryer in a medium setting.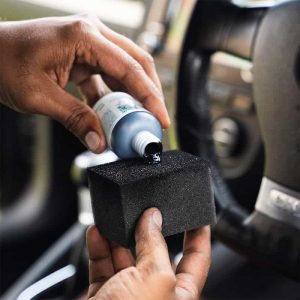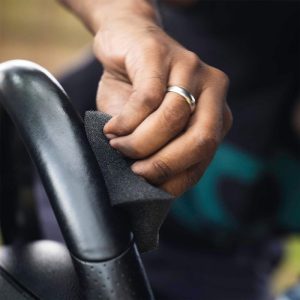 5. A day after painting, apply Dye & Friction Blocker to increase durability and resistance of the repaired area.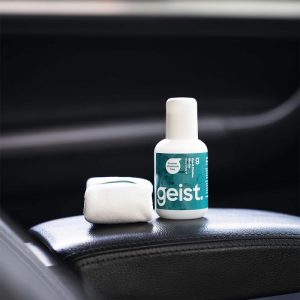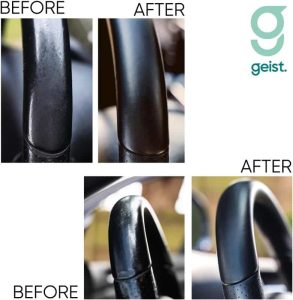 What's in the box? Leather restoration kit for black steering wheel includes
100ml Rapid Leather & Vinyl Cleaner 100ml/3.5fl.oz ℮

50ml Degreaser for Leather & Vinyl 50ml/1.7fl.oz ℮

Easy Colour Restorer (Black) 50ml

Dye & Friction Blocker 50ml

1x Sanding Pad,

2 x sponges,

2 x cloths
Find us on Facebook, Instagram, Youtube and TikTok
You may also like…
INTERIOR, GLASS CLEANERS, INTERIOR TRIM DRESSING, MATT FINISH, ACCESSORIES, APPLICATORS, BRUSHES, MICROFIBRE CLOTHS, INTERIOR CLEANERS, BRANDS, GOOD STUFF, WORK STUFF, GIFTS, KITS

GOOD STUFF Interior Kit

EXTERIOR, ACCESSORIES, BRUSHES, WASHING & DRYING, BRUSHES, WHEEL BRUSHES, INTERIOR, ACCESSORIES, BRUSHES, BRANDS, WORK STUFF

WORK STUFF Detailing Brush Classic 3-pack

EXTERIOR, ACCESSORIES, BRUSHES, WASHING & DRYING, BRUSHES, WHEEL BRUSHES, INTERIOR, ACCESSORIES, BRUSHES, BRANDS, WORK STUFF

WORK STUFF Detailing Brush Black Premium Quality