Carpet Cleaning Set
Drill Brush Carpet Cleaning Kit. Do you find cleaning a dirty car tough and immensely time-consuming? It will feel like that if you only remove all the dirt with a vacuum. Since we got this kit, vacuuming a car takes much less time. The selection of various brushes from this drill brush kit will allow you to effectively clean any part of the carpet in a vehicle.
The kit contains four items
4″ flat carpet brush
2″ flat carpet brush
3,5″ round carpet brush 6″ extension
Drill is not included in this kit.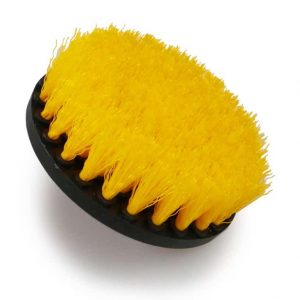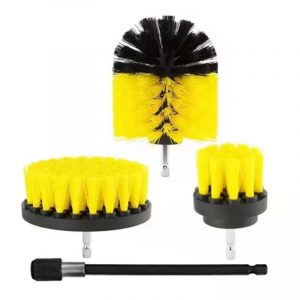 How to use the carpet drill brush attachment?
Pick a suitable brush from the drill brush kit and attach it to your drill. For the vacuuming, we prefer to use a round 3'5 inch brush. It perfectly scrubs and lifts any loose dirt from a carpet. Its round shape allows you to work even in tighter areas and corners. We first vacuum all loose dirt quickly to perform dry cleaning most effectively and efficiently. Then we scrub the carpet with the round brush. And then we vacuum the carpet again.
Our drill brush kit also contains two flat round brushes, 2 and 4″. Two flat carpet brushes are ideal for agitating your carpet cleaning solution. Attach a suitable size brush to your drill. Spray the solution on your carpet. Leave it to dwell for several minutes. And then agitate it with one of the brushes from our drill brush kit.
For very tight areas, you can also attach any of the brushes to a 6-inch extension bar that you will find in the kit.
Find us on Facebook, Instagram, YouTube and Tiktok. If you need detailing-related advice, feel free to email us at hello@ocddetailing.ie.
We are based in Ferbane Co.Offaly
Opening hours:
Monday to Friday: 9 am -6 pm
Saturday: 9am – 3pm
Sunday: Closed