ACCESSORIES, ACCESSORIES, BRUSHES, BRUSHES, BRUSHES, MICROFIBRE CLOTHS, MICROFIBRE CLOTHS, OCD Detailing, WASHING & DRYING, WHEEL BRUSHES, WHEELS
OCD Detailing Microfiber Wheel Brush

OCD Detailing Microfiber Wheel Brush
OCD Detailing Microfiber Wheel Brush
OCD Detailing microfiber wheel brush is the perfect solution for cleaning alloys with a glossy finish. This wheel brush is 44 cm long; thanks to its length, you can comfortably clean the inner barrel of your alloys. A very soft microfibre head allows you safe cleaning without scratching. You can use it with the majority of wheel cleaners.
Cleaning the wheel may be tricky, mainly if we deal with a glossy finish surface. Wheels gather a lot of dirt and brake dust. That's why using a microfiber wheel brush is the key to safe cleaning.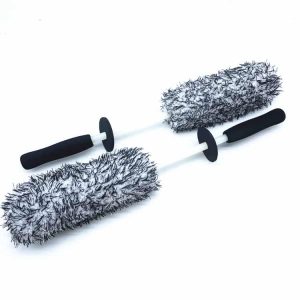 How to clean wheels with a glossy finish?
To avoid scratching the surface, never agitate wheels before prewashing them. Always rinse them off well first. If it is necessary, apply a wheel cleaner before the first rinse. When the wheels are free of dirt, apply wheel cleaner and gently agitate the surface with a microfiber wheel brush. For the faces of the wheels, use a delicate round detailing brush and after agitation thoroughly rinse off the wheels. To keep your glossy wheels in perfect condition, we recommend the application of ceramic coating. Check out this video.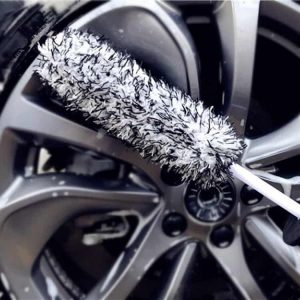 Categories: ACCESSORIES, ACCESSORIES, BRUSHES, BRUSHES, BRUSHES, MICROFIBRE CLOTHS, MICROFIBRE CLOTHS, OCD Detailing, WASHING & DRYING, WHEEL BRUSHES, WHEELS