ACCESSORIES, BRUSHES, OCD Detailing, PAINT CORRECTION, POLISHES AND COMPOUNDS, POLISHING MACHINES, POLISHING PADS, SPONGE PADS, WHEEL BRUSHES
OCD Detailing Polishing Pad Cleaning Brush

OCD Detailing Foam Pad Cleaning Brush. This easy-to-use cleaning brush quickly and easily removes excess compounds from polishing pads, restoring their abrasive properties.
With this pad cleaning brush, you can quickly and easily remove excess compounds from the surface of your polishing sponge. This will help restore the desired abrasive properties of the foam so that you can get back to work faster.
The brush is specially designed with a contoured handle and stiff nylon bristles, so you can apply the right amount of pressure to the rotating polishing pad.
Pad cleaning has never been easier or quicker – with this brush, it's just a matter of seconds.
Also, the brush is safe to use on all kinds of polishing pads, including wool, foam, and microfiber. So whatever kind of pad you use, this brush will get the job done quickly and easily. From now on, there's no need to go through the hassle of cleaning your pads by hand – this brush will do it for you.
Whether you're a professional detailer or an enthusiast, this is a must-have tool for anyone who uses a polishing sponge. Order yours today and see the difference it makes in your detailing results.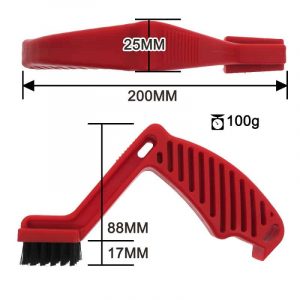 How To Clean Polishing Pad with This Cleaning Brush?
Using the OCD detailing cleaning brush is quick and easy. Simply insert the brush into the centre of the polishing pad and rotate it while applying pressure. The nylon bristles will remove any excess compound from the sponge's surface, restoring its abrasive properties.
For best results, use this brush on a wet polishing pad. This will help loosen any dried-on compound and make removing it easier. Once you've finished cleaning the pad, rinse it off with water and allow it to dry before using it again.
OCD Detailing
Aughaboy
Ferbane
Co.Offaly R42YR27
Tel : 0872619541