ACCESSORIES, BOTTLES & SPRAYERS, EXTERIOR, OCD Detailing, SNOW FOAM, SNOW FOAM LANCES, SPECIAL OFFER, WASHING & DRYING
Professional Snow Foam Lance

Professional Snow Foam Lance is a foam sprayer. It increases the efficiency and effectiveness of washing with pressure washers using chemicals.
Availability:
Out of stock
59.99€ – 64.99€


Professional Snow Foam Lance
Professional Snow Foam Lance made in Italy is a foam gun. It increases the efficiency and effectiveness of washing with pressure washers with the use of chemicals. Moreover, unlike classic detergent tanks, equipped with a brass head foaming the container, it provides:
The ability to regulate the foam stream,
Breaking the foam with the effect of "snow",
Better adherence of the agent to the cleaned surface
Easier refilling of detergent,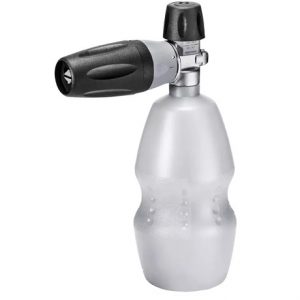 The capacity of the tank is 1L.
Professional Snow Foam Lance is compatible with selected power washers. Karcher, Parkside, Lavor, Nilfisk, Sthil, Bosch, Black & Decker.
Please make sure you choose the suitable connector compatible with your power washer. In case of doubts regarding the compatibility of the sprayer. Please get in touch with us on 0872619541 or hello@ocddetailing.ie

The foaming nozzle of the Professional Snow Foam Lance. It emphasizes the difference between the external foam nozzle and classic solutions. Thanks to the more precise breaking of the foam. The chemical agent settles on the washed surface more precisely and stays on it longer. Effect? Noticeably better washing results with less detergent consumption.
Are you fed up with the tedious manual washing of your beloved car?
Get to know the solution and discover the comfort of washing the pressure washer with the snow foam lance.
The lance allows you to feed cleaning agents in a liquid state.
The nozzle has an adjustable amount of chemicals and the angle of the water jet with foam.
Applying the detergent in the form of foam can greatly facilitate washing and reduce the consumption of chemicals.
The semi-transparent chemical tank allows you to control the amount of cleaning agents.
The reason why it is worth reaching for an external foam sprayer. Firstly is a positive effect on the service life of the pressure washers themselves. Moreover, the absence of chemical circulation in the pressure hose and pump leaves them clean throughout their service life.
| | |
| --- | --- |
| Brand | OCD DETAILING |
| Type | Karcher K2-K7, Parkside, Parkside Galaxy, Lavor, Black & Decker, Nilfisk, Sthil, Bosch Faip, Bosch New Type, Petrol Power Washer, Kranzle/Kew |