ACCESSORIES, ADBL, DRYING TOWEL, DRYING TOWELS, EXTERIOR, MICROFIBRE CLOTH, MICROFIBRE CLOTHS, WASHING & DRYING
ADBL Puffy XL Drying Towel

Ultra-fluffy is exceptionally absorbent microfiber. It dries off the entire car in one pass. Ultimate softness makes it suitable for highly sensitive paintwork—Ready for large scale wiping tasks.  ADBL PUFFY TOWEL XL guarantees practical work without swirls and scratches.
Availability:
Out of stock
22.99€
Out of stock

ADBL PUFFY XL MICROFIBER CAR DRYING TOWEL

A car drying towel is an essential piece of kit for every car detailer. Drying blades or chamois are not great for this purpose as they have flat surfaces. Due to that, we may cause micro-scratches if any dirt gets trapped between them and the paint. That's why using a quality microfibre drying towel is not only more effective, but it is also safe for the paintwork. Our favourite drying solution is ADBL Puffy XL. It is one of our best selling drying towels.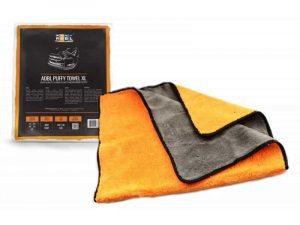 ADBL Puffy XL allows us to dry a car very effectively and efficiently.
It is a very high absorbing microfibre cloth. Due to this, we can dry the entire extra-large car at ease just with one drying towel. Overall, ADBL Puffy towel XL is very delicate. The edge of it is also very soft. All these features guarantee us safe swirl marks free drying.
Main Features:
Size : 60x90cm
Weight: 840GSM
High absorber
Delicate surface
How to clean ADBL Puffy XL car drying towel?
All microfibre cloths, including towels, need appropriate treatment. If we take care of them correctly, they will last for a long time. The first of the essential things is washing the washing temperature. It shouldn't exceed 40 degrees Celcius. Secondly are detergents that we use for cleaning microfibre materials. Overall we don't recommend using domestic washing powders. The reason for that is that, due to most of them, microfibre cloths lose absorbency. To keep our car drying towel in its best condition, we use dedicated detergents. For example, some of the reliable products are ADBL Micro Wash or Good Stuff Microfibre Wash. This product is perfect for cleaning microfibre cloths and towels.
How to revive a car drying towel if lost absorbency?
There is an old school method of reviving drying towels or microfibre cloths. Firstly, Wash it in a dedicated detergent. Secondly, prepare a rinsing solution. For the rinsing solution, use pure vinegar mixed with water. The answer should be about 1-2%. Mix 100-200ml of vinegar in about 10l of water. After washing, soak the towel or cloths in the rinsing solution. Leave it for 10-20 minutes. Dry it off. After this process, the absorbency of most microfibre car drying towels or cloths are well improved. Check out our youtube channel for more detailing tips.