ADBL, EXTERIOR, PAINT PROTECTION, QUICK DETAILER, SPRAY WAX
ADBL Speed QD Quick Detailer

ADBL SPEED QD. Extremely easy to use Quick Detailer. It evaporates easily from any car paint, even the most demanding types, such as solid black, leaving no streaks

 ADBL Speed QD
ADBL SPEED QD. Extremely easy to use Quick Detailer. It evaporates easily from any car paint, even the most demanding types, such as solid black, leaving no streaks. Ideal for use after each wash, on all types of bodywork, including protected with hard wax, sealant, vinyl wrap, ppf and ceramic coating. Between washes, it helps keep the paint in perfect condition by removing minor dirt, such as fingerprints, dust and insect residues, producing the effect of slight darkening and clear shine. All these properties, combined with above-average performance and ease of use, make Speed QD the first choice product for enthusiasts and professionals.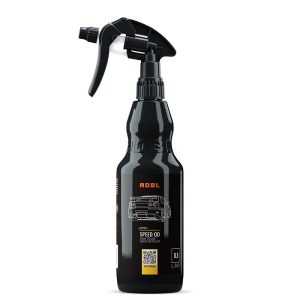 How to use it?
1. Apply a small amount of the product to a microfiber cloth.
2. Spread evenly over the element.
3. If too much product is applied, wipe with the other side of the microfiber cloth.
https://www.youtube.com/watch?v=ieeMyTBqQsE