CLEANTLE, EXTERIOR, NEUTRAL PH SHAMPOO, WASHING & DRYING
CLEANTLE Daily Ph Neutral Car Shampoo

Daily Shampoo by Cleantle is a highly concentrated, pH-neutral car wash shampoo. The Shampoo is distinguished by efficiency and effectiveness, it absolutely removes dirt from the surface of your car and does not leave stains at the same time!

Cleantle Daily ph neutral car shampoo
Cleantle Daily Shampoo is ph neutral car shampoo ideal for regular maintenance. It provides excellent cleaning power and quickly removes any dirt. This product also rinses off very quickly and doesn't leave stains. It offers excellent slippery for your wash mitt. The shampoo doesn't contain any polymers or waxes. It is a very efficient product as you only need about 20-40 ml per 10l of water. The product has a lovely fruity scent. Overall this product offers all properties of high-quality car shampoo. And, of course, as with all products from Cleantle, the shampoo is free of harmful substances. So the product is safe for your skin, and it is fully biodegradable.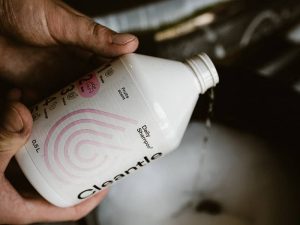 How to wash a car?
Even though washing a car seems very simple, it takes practice and knowledge. Of course, if you want to keep your vehicle in pristine condition. You should consider a few things to perform a safe and effective wash. One of them is the choice of chemicals for the wash—product for initial prewash and car shampoo. The second one is the method. Start from the initial prewash. This is the essential part of your wash. You need to remove the heavy dirt from your car effectively but safely. So depending on how dirty the car is and how often you wash it, pick a product that will manage the dirt.
If you have wax or sealant on your paint and wash your car weekly, Cleantle Citrus Foam will be ideal for the prewash. However, if your vehicle gets dirtier and you don't wash it weekly or fornightly, regardless of whether it has protection, use the stronger product for this purpose. In this case, we recommend ADBL ALkaline Foam or Bilt Hamber Auto Foam. These two products have a PH of 12 as a concentrate, so when diluted, the ph drops to about 10 -11. They are not PH neutral but still relatively safe for protection on the car. This offers excellent cleaning power and a safe solution for your car surfaces. I would avoid using extremely strong detergents, for example, truck cleaners. They provide excellent cleaning power, but they are unsafe for your car.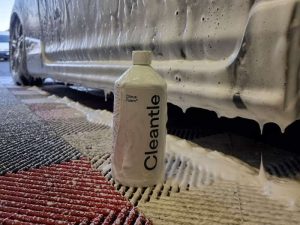 How to do an effective initial prewash?
When your prewash is chosen according to the dirt, spray the product on the car with a snow foam lance or sprayer. Leave the product to dwell for at least 5 minutes. Then you can start to rinse off the car. Never use your power washer from a very close distance to the paint. But find the best distance that works well and is safe for the paint. It all depends on the power that your power washer offers. Rinse off the car slowly, starting from the bottom. If you start the initial prewash from the bottom, the water will not dilute the product on the vehicle. Also, you will have way better control over your work, as the foam will indicate to you which part of the car is already rinsed. Once the car is rinsed, you can start to wash your car with PH neutral car shampoo.
How to use Ph Neutral Car Shampoo?
Get your solution ready in your wash bucket. All you need is about 20-40ml per 10L of water. For washing, we recommend using a microfibre wash mitt. Wash the car starting from the top. For the lower parts of the vehicle, you should have a second wash mitt that you only use for this purpose. This will save you your good wash mitt. Once you complete washing with your ph neutral car shampoo, rinse off the car well, starting from the top. The job is done!
| | |
| --- | --- |
| Brand | CLEANTLE |
| SIZE | 500ml, 1L, 5L, 500ml & wash mitt, 1L & wash mitt, 5l & wash mitt |