ACCESSORIES, BULK, CERAMIC MAINTENANCE SHAMPOO, DECONTAMINATION, DRYING TOWEL, EXTERIOR, GIFTS, KITS, NEUTRAL PH SHAMPOO, OCD Detailing, SHAMPOO & WAX, SNOW FOAM, WASH MITT, WASHING & DRYING
OCD Detailing Maintenance Kit

Our maintenance kit includes all you may need for safe cleaning of the exterior of your car. It is the perfect set for cars coated with the ceramic coating but also this set can be used for cars without coating
OCD Detailing Maintenance Kit ( for ceramic coated cars)
Our maintenance kit includes all you may need for safe cleaning of the exterior of your car. It is the perfect set for cars coated with the ceramic coating but also this set can be used for cars without coating. All the products selected in this kit will help you to provide hassle-free but also very safe maintenance.
This kit includes: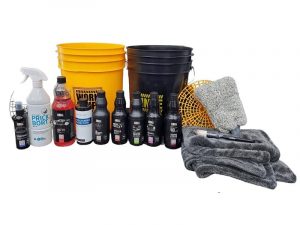 2 High quality detailing buckets with grit guards
High Quality twisted loop drying towel
Microfibre wash mitt
Detailing brush
1L ADBL Yeti – PH neutral snow foam
500ml ADBL Snowball – PH neutral car shampoo
500ml ADBL Vampire Liquid – fallout remover
500ml ADBL Bettle Juice Squeezer – bug remover
500ml ADBL Tire and rubber cleaner
200ml ADBL Hybrid glass – Glass cleaner & water repellent
500ml FX Protect Tire & Rubber Protection – tire dressing protectant that leaves satin, like new finish
1L Safe tar remover
How to wash a ceramic-coated cars?