MJJC FOAM CANNON PRO V2.0 For Petrol Power Washer
The MJJC Foam Cannon for Petrol Power Washer is the highest-quality foam gun in the car detailing industry. It has gained popularity among car enthusiasts and professional detailers for its performance and durability. Here are some reasons why the MJJC Foam Cannon is considered high quality:
Construction: The MJJC makes their products with high-quality materials such as brass, stainless steel, or durable plastic. This ensures its longevity and resistance to wear and tear.
Adjustable Foam Thickness: The MJJC foam cannon for Petrol Power Washer has an adjustable nozzle that allows you to control the thickness of the foam. This feature allows you to tailor the foam to your needs and preferences.
Compatibility: The foam guns fit most power washers available on the market. Check out our website for the right one.
Ease of Use: The foam gun is user-friendly and easy to operate. It usually features straightforward assembly and attachment to the pressure washer, allowing for hassle-free setup and quick foam generation.
Customer Satisfaction: The MJJC Foam Cannon receives positive reviews from users who praise its performance and results.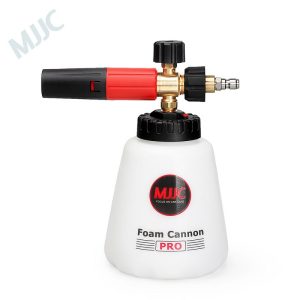 Before ordering the foam gun, make sure you choose the correct attachment for your power washer, if you have any doubts, please contact us on 0872619541 or hello@ocddetailing.ie
MJJC Foam Cannon for Petrol Power Washer: The Best Foam Gun on the Market
Large Tank (more than 1000ml).
Anti-leak Tank Cap allows you to foam the chassis or roof without leaking.
Leak-proof stability is perfect for storing extra or leftover cleaning solutions.
360° Degree Adjustable Spray Direction feature makes it easier to foam the roof and chassis of your vehicle.
Thanks to the new spray nozzle you can make better foam.
Mjjc foam cannon for Petrol Power Washer uses less detergent
Produces 30% denser foam than the first-generation foam cannon with the same amount of product.
You can achieve thick foam even with 90Bar(1300psi) pressure washers.
The new connection system (patent pending) makes it easier to attach fittings, there is no need for PTFE tape or glue.
The new design makes changing the orifice nozzle and mesh filter easier.
If you are looking for the highest quality foam gun, The MJJC foamer will not disappoint you. These foamers are our best sellers for the last few years. If you are not sure which foam gun is suitable for your power washer, contact us via email hello@ocddetailing.ie