OCD Detailing Double Side Twisted Premium Drying Towel
The new Premium Drying Towel is the most innovative solution currently available. The unique synthetic triple twisted fibres absorb impressive amounts of water quickly and safely.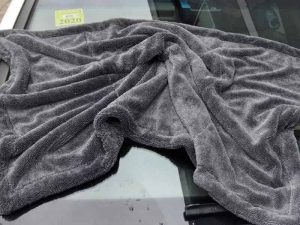 A thick 1100gsm dual-layered and edgeless twisted premium drying towel. Moreover, engineered triple twist fibres ensure a high water absorption rate for superb drying ability. Soft 1300gsm fibres reduce the risk of scratches and swirl marks. A dual-sided pile holds double the amount of water as a single-sided towel.
1300gsm
Soft
Highly absorbent
Edgeless
Unique structure – unlike any other towel
We recommend ADBL Micro Wash or Good Stuff Microfibre Wash to keep your towels at their best.
The OCD Detailing Premium Drying Towel 90x60cm works equally good on coated and uncoated cars.
If you're looking for a soft, fluffy, fuzzy towel – this isn't the towel for you. If you're looking for one of the most effective multi-purpose towels available that is paint-safe – then this is the one!
How to care for microfibre cloths and towels?
Always wash new microfiber towels before first use.
Wash only with other non-linting materials (NO Cotton!) to maintain proper dirt-gripping properties.
Always wash newer black, orange, red, and other dark coloured towels separately from lighter coloured towels to mitigate the risk of dye bleeding.
Machine wash with mild liquid detergent (free of dyes, fragrances, bleach and softeners.)
Do NOT use chlorine bleach.
Do NOT use any fabric softener as this clogs the microfibers and reduces performance.
Tumble dry using low heat.
Do NOT iron.