Hello and welcome to the OCD Detailing blog. Today, we look at something that can create a real wow effect in your car. I am talking about tire dressings. Do you think this is the type of product that you may overlook? Take a look to see what you can achieve with a tire shine.
WHAT IS TIRE DRESSING, WHAT TO USE, AND WHAT ARE ITS BENEFITS?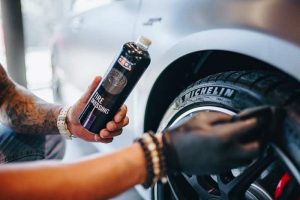 Photo by Prime Detailing*
I will answer these questions based on my knowledge about the products available in my store OCD detailing. ie and my several years of experience in the tire industry.
Tire dressing (often colloquially referred to as tire shine) is usually liquid or gel. The task of tire dressing is to protect the rubbers against fading (UV radiation), weather factors (acid rain), road salt during winter and dirt. A rubber sealed with dressing is nourished, resistant to the factors mentioned above, and significantly increase its life span! (But about tire life in a moment). Notably, the product gives hydrophobic properties (water drops and runs off the tire), thanks to which the dirt does not stick to the tire, and it is easier to keep it clean.
Many arguments encourage the use of tire dressings. First of all, the excellent and neat appearance of the tire! It is the icing on the cake in every well-kept, cleaned and shiny car. After all, we cannot imagine spending two days embracing our pride and joy so that it looks delightful and overlook the wheels.
The primary and obvious advantage is the appearance of the tire. The market offers us many products. We can choose between dressings that give a different finish effect: matte, satin and glossy.
A good tire dressing does not leave greasy stains and streaks but fully absorbs into the surface. A tire protected with a good dressing is relatively dry because the product evaporates, leaving a long-lasting matt, satin or gloss effect.
We have various products available from our shop:
ADBL Tire dressing – glossy/satin finish
ADBL Black Water – satin matt finish
FX Protect tire & rubber protector – satin finish
Good Stuff Shine – glossy/satin finish
Good STuff Matt – matty finish
Autopia Endurance – glossy finish
Autopia Wet Wall – glossy finish
Aqua– satin finish
Tenzi– satin finish
Soft99 back to black – satin finish
DOES DRESSING EXTEND THE LIFE OF A TIRE?
Yes! This is one of the essential advantages of using dressings. The use of tire shine significantly extends the life of our tires. Dressings soak deep into the tire's structure, protecting it against external factors, and yet we have quite a lot of it … Acid rains in winter. In summer, our beloved sun. Tires get very hot on a sunny day! So let's think about regular maintenance.
Car tires are not cheap, so it is worth extending their service life as much as possible. Does dressing have the effect of extending tire life? Yes!
HOW TO APPLY DRESSING TO THE TIRES?
Before applying the dressing, the surface should be well cleaned, even if they look clean.
Of course, the world would be too simple if it were enough to apply a tire dressing to our tires. The key to durability (i.e. keeping the dressing on the rubber surface for a long time) is to properly clean and dry the tire. Tires are a filthy part of the car, which is often not visible at first sight.
In addition to the preservative, it is worth having a product in your arsenal that will help to clean your tires (e.g. ADBL Tire & Rubber Cleaner. I recommend using a stiff brush or a brush for this purpose. It is advisable to wash the tire twice until the brown dirt stops oozing from it. Only after drying or wiping the tire, you should apply the product. For using the dressing on the tires, I recommend choosing a profiled sponge applicator—for example, Clean Hands Tire Applicator from Work Stuff.