How to clean wheels safely and effectively?
Cleaning wheels, especially heavily soiled wheels, may seem quite a challenge, but if we have some basic knowledge, appropriate products and tools, we should not have a problem cleaning even the dirtiest wheels. Of course, it is also essential to use the products correctly, so we do not damage the cleaned surfaces. If you want to know how to do this, please take a few minutes to read this blog.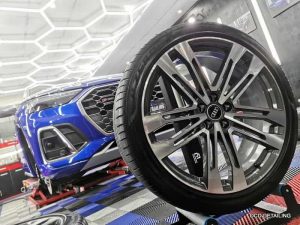 The most important thing is to choose the right wheel cleaner for the type of wheels you want to clean. So first, it is worth finding out about the kinds of wheels we may encounter. We can divide wheels into two types: standard and delicate. The standard ones include; steel rims, powder-coated aluminium rims, painted wheels, diamond cut, and all other types that have a protective layer against external factors and chemicals.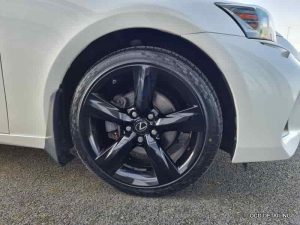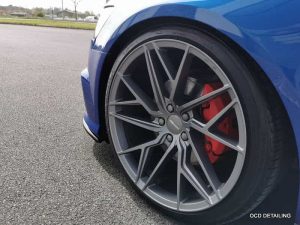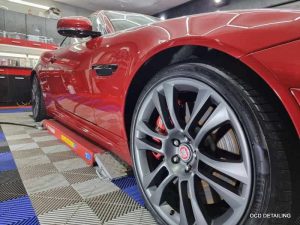 The delicate wheels include wheels finished with; chrome, polished aluminium, etc.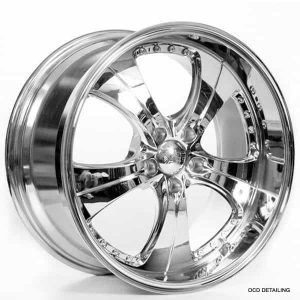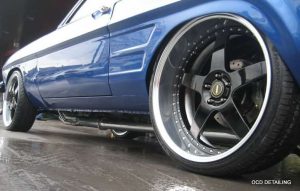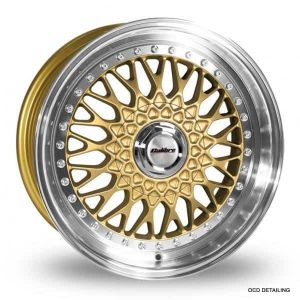 Another significant thing that protects us from damaging the wheels is cleaning wheels when they are cold. We should never clean the wheels immediately after driving the car. That's because wheels become very warm or even hot when braking. A strong wheel cleaner in contact with a hot surface may cause a reaction. If we have no time to wait, we should first cool the wheels with water before applying a wheel cleaner. The cleaning product will not evaporate fast when we work on cool wheels. In addition, we will avoid the risk of the wheel cleaner reacting with the surface or staining it. People who clean cars daily have certainly encountered such a view, especially in the case of diamond cut rims. This type of damage may appear over time after cleaning hot wheels with a strong wheel cleaner.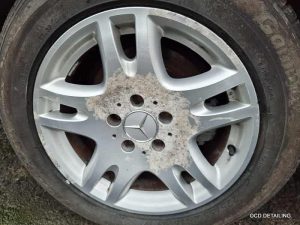 To keep the wheels in the best condition, it is also worth remembering that we should not use wheel brushes directly on dirty wheels. We should rinse the wheels as best as possible during the prewash stage to wash away all road dirt. In the case of moderately dirty wheels, we can prewash with a product that we use for prewashing the paint. If the wheels are heavily contaminated, we can apply a suitable product for cleaning wheels, leave for a few minutes and rinse them off. It will remove road dirt and initially act on the stubborn brake dust.
What are the types of wheel cleaners?
Let's start with wheel cleaners. We have various wheel cleaners on the market; we can divide them into products; acidic, alkaline, and iron removers.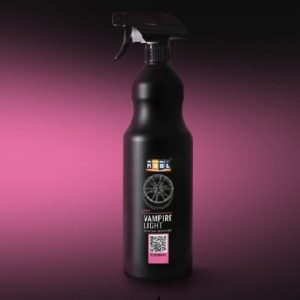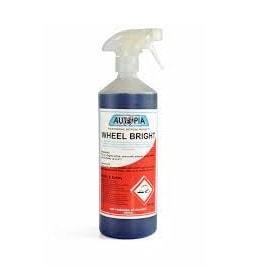 Acid Wheel Cleaner
In general, acidic products are applicable and are great for inorganic contamination. When using acidic wheel cleaners, remember that they are corrosive, so be especially careful. It is recommended that you use the correct PPE; nylon gloves, mask and goggles.
One of the best acid products we have had the opportunity to use so far, and we use in extreme situations, is Autopia Blast – Acid Wheel Cleaner. It is a PH 1 product, powerful and effective for cleaning the dirtiest rims. We can dilute this product with water to reduce its strength. After using acid, we should rinse the cleaned surface well. To neutralize its PH on the cleaned surface, it is recommended to apply an iron remover. Thanks to this, the operation of the iron remover will show us whether the wheel surface is deeply cleaned. In addition, it will neutralize the wheel surfaces, and it will prevent the formation of a chemical reaction on the wheel. Usually, this reaction does not appear immediately, but the adverse effects may take some time to show.
We don't recommend using strong acidic wheel cleaners for regular care. These are the measures to be used in case of heavy contamination. We use these instances where the use of a milder product requires too much work time. Acidic wheel cleaners are not suitable for use on delicate rims. That's because using these products on delicate surfaces can cause permanent damage to the cleaned surface. Also, in the case of standard wheels, it is recommended not to use an acid product without diluting. In the case of Autopia Blast, we should start with a minimum dilution of 1: 5. If the product in this dilution is not adequate, we can increase the strength by reducing the proportion of dilution.
Alkaline Wheel Cleaner
Another type of wheel cleaner that we can use is an alkaline product. Alkaline-based products are usually very effective at removing organic and greasy contaminants. However, they are also great when it comes to cleaning the wheels. One favourite is Autopia Wheel Bright. An efficient and potent product with a PH of 12. We can dilute this product and adjust its power according to the dirt we are dealing with. Even at a dilution of 1: 5, this product still can remove stubborn dirt from the wheels.
After using this type of cleaner, it is also worth using an iron remover to remove residue of iron-based contaminants. And also, as in the case of using strong alkaline cleaner, the iron remover will neutralize the PH on the cleaned surface. Although alkaline wheel cleaners are not as aggressive as acids, you shouldn't overdo them mainly when you use them in their full strength. Using these products on delicate wheels is not recommended as they may cause damage.
Iron Fallout Remover
The third type of wheel product we use for cleaning is iron removers. These are products with a neutral PH, which makes them entirely safe for use with all kinds of wheels, standard, delicate, and paint. Our arsenal has several iron removers; we often use ADBL Vampire Light for wheels. It is a very effective and long-lasting product on the surface. The consistency of ADBL Vampire Light is gelly like. For ongoing care, where a longer operation time is not required, we use ADBL Vampire liquid. This product is also great for removing metallic particles from the paintwork.
For heavily contaminated delicate or painted wheels, the ADBL Vampire is our choice. ADBL Vampire is one of the densest iron removers we have come across. Thanks to its very thick consistency, this product has a long working time, so we do not have to repeat the application several times as would be required in the case of thinner products.
Summarizing the above information, we can use the above wheel cleaners for standard wheels. However, it is always worth choosing the right cleaner for the contaminants and not overdo it with the power of the product if it is not necessary. Thanks to this, we will avoid the risk of damaging the surface. In the case of delicate wheels, the best and safest choice is to use a neutral PH iron remover.
How to perform safe maintenance of wheels?
When it comes to the regular maintenance of wheels in excellent condition or new, we should avoid using strong products altogether. Regular care will prevent the build-up of metallic pollen. In the case of clean wheels, which we wash every 1-2 weeks, the product we use to wash the entire car will undoubtedly remove surface dirt. And the use of the iron remover every 3-4 washing will thoroughly clean any dirt every time without much effort. It is worth remembering that the lack of regular care causes the accumulation of impurities, which, after a few months, become tedious and difficult to remove. And only then should we consider using more potent wheel products
When we clean wheels, it is also worth remembering to remove the tar from the wheels. Wheel cleaners do not remove tar, so choosing the right product for tar removal will make it easy.
Our choice for tar removal is a product called Vasco Prewash. It is a safe product that you can use on any surface, both on standard and delicate rims. In the case of delicate wheels, we can leave the product for about 1-2 hours, for standard rims for up to 12 hours. The advantage of this product is that it is safe and a contactless tar remover.
Another product worth having in your arsenal is a tire cleaning product. One of the most effective products of this type on the market is ADBL Tire & Rubber Cleaner. A sensational product that thoroughly removes the most stubborn brawl from car tires and other rubber surfaces. Thanks to the thorough cleaning of the tires, our tire dressing will have a significantly longer service life.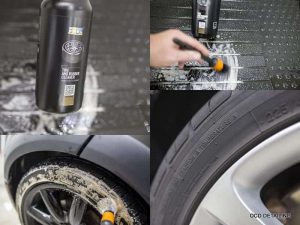 Types of brushes for cleaning wheels.
To clean the wheels, you will also need the right tools. A wheel brush is a good idea to clean the inside of the wheel. We use several types of types, for example, ADBL Sword. It is a large brush with softer-stiff bristles. Perfect for cleaning wheels with good access to the back of the wheel. And its more petite version of ADBL Dagger is ideal for cleaning wheels with less access to the Barrel. For cleaning delicate and high-gloss painted wheels, it is worth having microfiber brushes, e.g. Work Stuff Squall or Work Stuff Squally. For cleaning the front of the wheel, larger brushes are ideal, for example, Work Stuff Black with soft bristles, Work Stuff Albino with super soft bristles, or the Work Stuff Stiff for stubborn dirt. When it comes to tires, this type of tire brush is perfect.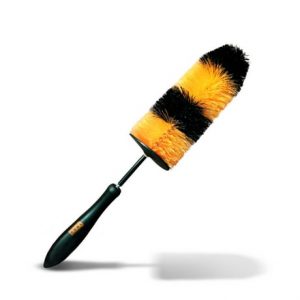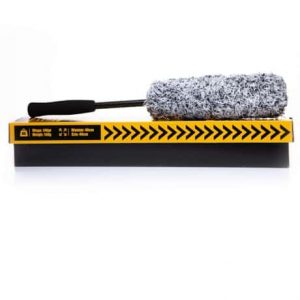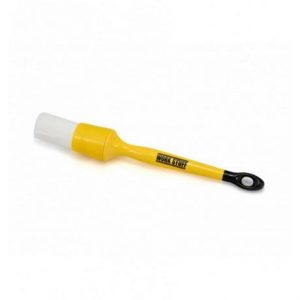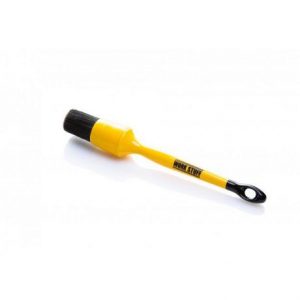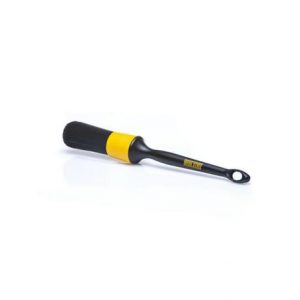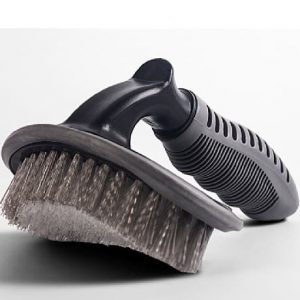 How to protect wheels?
To make caring for the wheels even easier in the future, it is an excellent idea to protect the wheels. You can use a protective coating for new wheels or wheels in perfect condition, e.g. AQUA Wheel Coating. It is not too complicated, and it gives a brilliant effect. If we do not want to protect the wheels with a coating, we can apply a dedicated quick detailer for rims, e.g. Good Stuff Rim Detailer, to the wheels every 2-4 washes, or simply a spray wax or a quick detailer for paintwork. It won't take much time, making it more straightforward to keep the wheels in perfect condition. As well as cleaning the wheels will be very easy.