All About Car Detailing Brushes
Car Detailing brushes are essential accessories for every detailer. Is it worth buying dedicated detailing brushes, or are ordinary ones from a hardware store enough?
In hardware stores, you can buy good quality brushes that can be used to clean the car. However, in many cases, paintbrushes are not suitable for detailing. In addition, in the case of the cheapest painting brushes have much weaker resistance to chemicals. Manufacturers of painting brushes do not consider that their brushes will come into contact with various types of chemicals.
In the case of dedicated detailing brushes of good quality, you can be sure that the brush will serve you for a long time. If you decide to buy regular brushes, avoid brushes with metal parts. Because this can easily cause damage to the cleaned surfaces, it is also worth avoiding brushes with a wooden handle if you intend to use a cleaning brush with liquids. However, read this article if you have decided to buy dedicated car detailing brushes. It will undoubtedly help you choose the right one.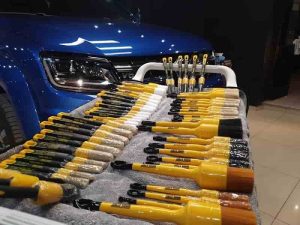 Where do we use round brushes?
Wherever we have difficult access to the cleaned surface. As well as for cleaning open surfaces like dashboards and door panels. Detailing brushes are great for cleaning inside and outside the car. They are irreplaceable when cleaning rims, engine compartments, window seals or badges.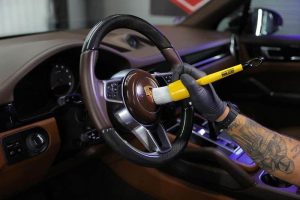 Which manufacturer of detailing accessories to choose?
At first glance, the car detailing brushes look similar. However, each brush has its purpose. These brushes differ primarily in the type of bristles. One such manufacturer is Work Stuff, a world leader in the highest-quality detailing accessories. Work Stuff offers car detailing brushes with six different types of bristles. In addition, it gives you a choice of 2 types of handles; varnished and rubber. As well as allowing you to choose the size starting from the smallest size 8 (16mm) to the most significant 20 (40mm), and of course, 12 (24mm) and 16 (30mm).
Which one to choose for what task?
Most Work Stuff car detailing brushes are great for interior and exterior use. For standard cleaning, we recommend Work Stuff Classic with natural bristles. For more soiled surfaces, Work Stuff Black will be perfect. We also have Work Stuff Grey to choose from. For cleaning very delicate surfaces, Work Stuff Albino or Albino Orange will be the ideal choice due to the very soft bristles.
Work stuff also has brushes with ultra-soft bristles for cleaning the most delicate surfaces. For cleaning the rims, we can use all brushes except ultra-soft; the choice of car detailing brush should depend on the dirt. The last brush is Work Stuff Stiff, a brush with hard bristles that will be perfect for cleaning stubborn dirt inside and outside the car. Stiff will also be the ideal choice for cleaning a dirty engine compartment.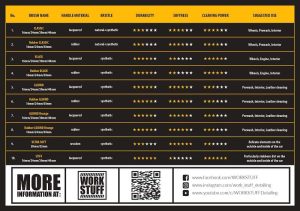 Are Work Stuff accessories worth the money?
Work Stuff creates the highest quality detailing accessories. Therefore, if you are a professional detailer or an advanced hobbyist, you will certainly appreciate the quality of these accessories. They are made of high-quality components and are very durable. They can be used with alkaline, acid and solvent products. To get the longest lasting of your car detailing accessories, always clean them after use. Rinse them thoroughly with clean water and leave them to dry. This will keep them in excellent condition for a long time.
We have quite a few Work Stuff brushes in our studio, some of which we have been using for even four years. Of course, the oldest ones already have significant signs of use, but they are still usable. Therefore, we can confidently say that Work Stuff accessories are among the best on the market however, if you would like to buy car detailing brushes of good quality but at a more affordable price. We also offer brushes from other brands; you can find them on our website.