How to correctly choose a polishing pad?
You can get a whole range of different polishing pads from various brands these days. Polishing pads may vary in properties, sizes, and structures. You may be just considering choosing a sponge or a set of sponges, but you are unsure which one will be the most suitable.
No wonder novice auto-detailing enthusiasts may get lost in the maze of products currently offered by shops. That is why we are here to help you and decided to write a guide on choosing polishing pads.
So here we go.
The first thing you should pay attention to is the hardness.
Polishing pads are usually available in three basic variants: soft, medium and hard.
Hard polishing pads, the so-called cutting pads. They are characterized by a high degree of aggressiveness and are intended for removing deep scratches. They are most effective when used with heavy cutting compounds.
Medium polishing pads are an intermediate variant. So they are used after the cutting stage if necessary or for one-step machine polishing. These pads provide a significant level of defect removal while leaving a very decent finish.
Finishing pads are the softest. These polishing pads aim to remove holograms or very minor marks and give the final high level of gloss. They are suitable for use with finishing or medium compounds and the application of pre-wax cleansers and glazes.
However, many manufacturers noticed that the selection of polishing pads into three options was insufficient, so they supplemented their offer with intermediate hardness.
We mainly use pads from NAT and Zvizzer. These two brands offer a wide selection of polishing pads with various hardness.
Nat offers pads in the following variants: soft (black), medium-soft (red), medium (yellow), one-step (orange) and hard in 2 variants: open-cell( white slash) and closed-cell (blue).
In turn, another manufacturer of polishing pads – Zvizzer, offers pads with the following degrees of hardness: finishing (green), medium (yellow), one-step (orange), hard (red) and very hard (blue).
Recently Zvizzer created a new line of polishing pads, so-called Thermo pads, super heavy cut (grey), heavy cut (green), medium (blue) and finishing pad (black).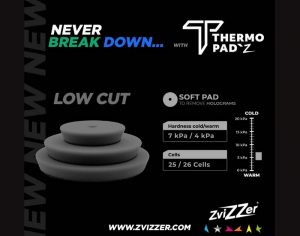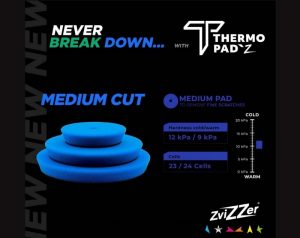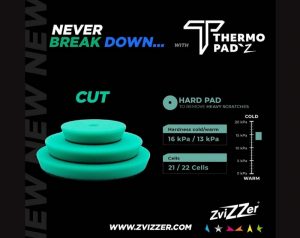 What should you consider when choosing polishing pads?
As you can see, there are many options. However, before choosing the hardness of the pad, you should also consider hardness and the thickness of the paint you are going to machine polish. (You can measure its thickness with a paint thickness gauge). If the paint thickness is low, it means that you should be careful with hard, aggressive pads. The standard thickness of the paint should not cause any problems. With the experience we have gained over the last decade, we can say that harder paints characterize most German cars, Japanese cars have soft paint, French or Italian cars have medium paint.
As a precaution, always start by choosing a combination of the least abrasive polishing pad (soft to medium soft) and light abrasive compound. This will ensure that you are not using an overly aggressive combination that could remove a thicker layer of paint than necessary.
Which pads for dual-action or rotary polishing machine?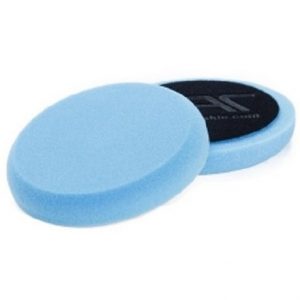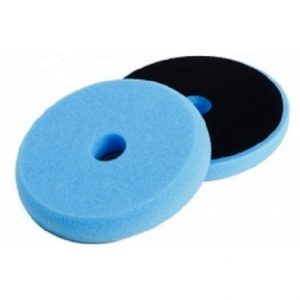 There are two primary polishing machines: rotary and Dual-Action (orbital).
The rotary machine is perfect for intensive defect removal, especially when it comes to hard paints. Due to a lot of friction, while cutting stage, we prefer to use wool pads, for example, from Brayt. Wool doesn't heat the surface as much as sponge pads when used on the rotary polisher. However, we can also perform effective and efficient paint correction with a dual-action machine with the right combination of polishing pad and compound. The use of a dual-action polisher usually makes refine process very easy.
Importantly, polishing pads come in two variants: the first one with a cooling hole in the centre of the polishing pad and without the hole. Sponges with a hole are dedicated to Dual-Action machines. The opening is designed to dissipate heat, i.e. to prevent the polishing machine and pad from overheating.
What do you want to machine polish? A large area such as a mask or details, e.g. space under the door handles?
As you already know, polishing sponges vary in hardness, with or without a cooling hole, and come in different sizes. Usually, these are the following diameters: 3″, 5″, or 6″. It is worth adding that for more advanced jobs, there are also sponges in sizes 2″, 1″ and smaller.
When choosing a polishing pad, you should be guided by the size of the surface you will be polishing. For places like; spaces under the handles, around the headlights, side pillars and any other hard-to-reach areas, you can use smaller pads (e.g. 3″). Your work will be more precise, and the whole process will be much easier because the small pads guarantee the freedom to work in hard-to-reach places. On the other hand, working with large areas such as the hood, roof and door panels will be much more efficient if you use a large polishing sponge.
One universal sponge is enough, or is it better to have several sponges of different hardness?
Let's assume that you only want to refresh the paintwork, i.e. do the so-called single-stage polishing. In such a situation, do you need many different polishing sponges or only one, e.g. medium hardness, is enough?
It all depends on our skills and expectations. You can freshen up the paintwork with one pad and compound. But it is worth having several types in your garage. This allows us to test what combination will be appropriate for a given type (hardness) of the paintwork.
Check out our video for machine polishing for beginners.
Well, don't think any longer if you can handle it. Complete your own set and go!